Kitchen Knives

Having professional K Sabatier knives in your kitchen means taking advantage of 200-year-old KNOW-HOW. It is also the guarantee of a great brand which participates in the tradition and prestige of French cuisine through its professional knives. For your guarantee, the blades of our forged knives are stamped "France - Thiers"
Your kitchen knives on Sabatier
A kitchen knife is a very important tool for your kitchen whether you are chefs, professionals or home cooks.
Kitchen knives are diverse and varied. But what is the name of the different kitchen knives? You can find a large selection on our website: Office knife, kitchen knife, chef's or chef's knives, slicer, Sole fillet, boning knife, meat cutting knives, meat knives.
The stainless steel kitchen knife is the most common in most kitchens. But the Sabatier K house continues to manufacture carbon steel kitchen knives for lovers and connoisseurs of this very particular steel.
The 20 cm kitchen knife or chef's knife is the main kitchen knife. It allows you to work, cut, mince vegetables, fruits, meat, fish.
But to cook well, you need to have multiple knives in the kitchen. This is the reason why we offer a Sabatier K Thiers kitchen knife block.
The kitchen knife block allows you to store in complete safety and to have at hand the main tools of kitchen cutlery: a 10 cm paring knife, 13 cm tomato knife, a 15 cm kitchen knife, a chef's knife 20 cm, a 20 cm slicing knife and a 20 cm forged rifle to sharpen and maintain the edge of your knives.
We also offer Sabatier knife blocks
The thiers kitchen knife, like the kitchen knife block, is a very good choice.
Chef's knives for professionals
The professional kitchen knife must meet certain requirements: the steel used for its manufacture (stainless steel or carbon), the quality of its manufacture is most often 100% forged and the origin of the products: Thiers which is the French capital of cutlery.
The chef's knife or professional knife is the symbol of the chef. It is a sharp knife, the blade of which is wide and of dimensions of 20 to 25 cm. The handle is black and held by 3 cross rivets.
A French chef who has a 3-star restaurant in New York told the Wall Street Journal that his best professional kitchen knife was the Sabatier K 10-inch-blade kitchen knife.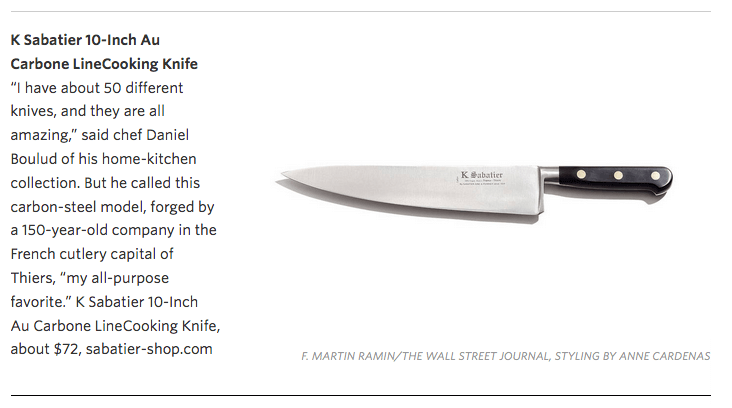 Wall Street Journal K Sabatier kitchen knife
carbon kitchen knife 25 cm - Sabatier K Thiers
Our family house, professional cutlery, because of its history and its manufacture, offers its customers the possibility of owning a professional knife which can be stored in a professional kitchen knife block.
Kitchen knife brands
In our Clermont-Ferrand store, we work with several pocket knife manufacturers who also make kitchen knives. The Chambriard Thiers cutlery offers a selection of Le Thiers kitchen knives. The Maison Perceval Thiers, well known for its 9.47 table knife, manufactures kitchen knives with wooden handles in THIERS. We also offer accessories from the KAI - Japan house to maintain the edge of your kitchen knife, as well as Fischer Bargoin Thiers shotguns.