Laguiole

The Laguiole knife, with its characteristic bee and its unsurpassed quality, has largely contributed to the renown of French cutlery.
Entirely made in Thiers, our Laguiole table knives embody the perfect material to combine tradition and cutting performance during each of your meals. Whether you choose a steel handle for its practical size, or a wooden handle for its rustic look, our Laguiole knives guarantee you a unique pleasure during each use.
A Laguiole knife corresponds to a knife shape. We only offer French-made knives: Thiers for some, and made in Aubrac for others like Laguiole in Aubrac.
In our guides and advice, you can find out what a real Laguiole knife is.
We work with several French manufacturers such as Laguiole en Aubrac, Forge de Laguiole, Chazeau Honoré, Facosa, Goyon Chazeau, and many others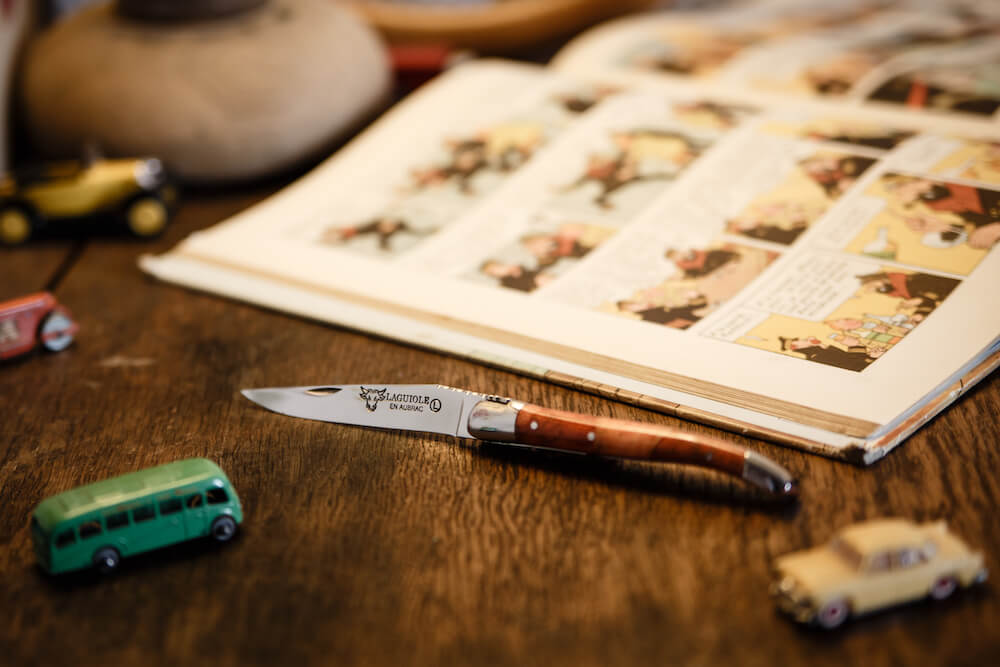 Laguiole table knives are traditionally made and are 100% MADE IN FRANCE, a concept that is close to our hearts and that we all want and should endure together.
For table knives, design is very important. A Laguiole table knife can be very modern, but also very traditional.
The handle is a very important part of a table knife. They are often made of wood:
Olivier
juniper or cade
rosewood
yew wood
Rosewood
snake wood
birch, curly birch or birch from Norway and other countries
boxwood
ebony
oak
The handles can also be made of steel, in plexiglass for more modernity.
You can combine your Laguiole table knives is an old or modern fork and spoon service.
The quality of a table knife is also essential. He must cut vegetables, meats whatever they are.