How to recognize a real Sabatier knife ?
For the consumer, there is only one manufacturer of Sabatier kitchen knives. In reality, this is much more complex.


The Story of K Sabatier - a family of cutlers
Philippe Sabatier is the first generation of the company. He created a knife for kitchen professionals. The company is then taken over by his son, who will develop the K SABATIER brand, as well as sales in France and abroad: Europe - USA - Africa ....

The first generation dates back to the beginning of the 19th century.

Our company is run for 8 generations by the same family. This drives us to offer our customers quality kitchen knives in a transparent way.
We proposed Carbon Kitchen knives and Stainless Steel Kitchen knives.

The EPV label - Entreprise du Patrimoine Vivant - has come to reward our exclusively French manufacturing and high quality craftsmanship.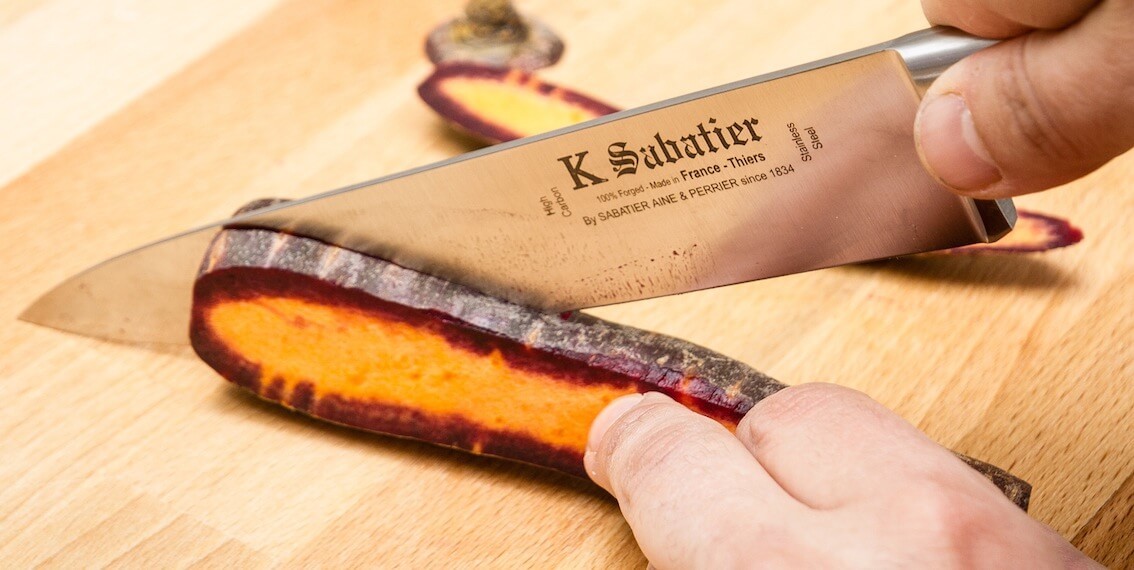 Since the beginning, the company K SABATIER continues to manufacture kitchen knives under the brand K SABATIER. The production is exclusively made by the establishments SABATIER AINE & PERRIER in the area of THIERS - Puy-de-Dôme - FRANCE. The knives with an apparent bolster are entirely forged (100% forged).

It is difficult for us to talk about other manufacturers / importers who own a Sabatier brand. The list is available on Wikipedia.

But before making a purchase, we advise all consumers to learn about several things :
is it a 100% forged knife, or forged / pressed or welded? Knives may have similarities to ours, but their manufacture, quality, cutting and maintenance will be very different from each other. To be sure of having a knife with a forged blade, the words "100% forged" must be written on the blade.
the place of manufacture of the kitchen knife: we recommend French manufacturing to support our commitment to French craftsmanship. Low-cost countries do not manufacture 100% forged knives. They are usually welded or have a welded bolster. All products made in France are marked "MADE IN FRANCE". If this statement is not present, the consumer may have doubts about the origin of the product.

the brand. There are different brands of knives, as well as different Sabatier brands, owned by several competing companies. Each company offers its customers the products they want. It is therefore necessary that the consumer inquires directly to the manufacturer of the desired product to be fully informed about what he will buy. Sabatier K is always at your service and will advise you in your choice
For a labda consumer, a Sabatier knife is a forged knife.

All K Sabatier knife production is forged at THIERS. We start from a piece of round steel that we will completely forge in order to obtain a draft of a kitchen knife. This is the ONLY technique that allows to have all parts of the forged knife, and therefore to have a FORGED BLADE with a stainless steel or a carbon steel.

There is no solder or reported bolster.
The manufacture of a knife 100% for is long and very technical. The main operations are:


In order to guarantee our products, it is indicated on the Sabatier K knife blade several indications :
K SABATIER: our trademark

100% Forged: the whole knife was forged by a hammer in one piece of steel

Made in France - Thiers: we are proud of our French manufacture, even of Thiers.

By SABATIER AIBE & PERRIER: we are the manufacturers of our knives.




For your information :
if on a knife the mention "100% Forged - 100% Forged" is not present, you are not sure to have a forged knife in a single piece of metal. It can be welded for example and therefore not have a forged blade. Even if the appearance looks like our products, the quality will be very different.
if the mention MADE IN FRANCE is not present, find out where the knife is made. Strange not to want to indicate the place of manufacture !!!


It is therefore important to inquire before a purchase.


We receive mail too often for defective products. Thank you for understanding that we can not guarantee the knives of our competitors.


Of course, a knife must be well maintained. Remember to clean it with water with dishwashing product on a soft sponge. Dry it well. It will also maintain its sharpness by sharpening with a rifle.



Our brand is "K SABATIER"

Our production is entirely made in THIERS - Made in France THIERS

Our quality is 100% FORGEE.


For your information, K SABATIER can personalize the knives.
Read our articles :
How to recognize a real Le Thiers® knife
How to recognize a real Laguiole knife ?